The rail corridor is one of Singapore's most popular outdoor attractions now!
It is an ongoing project in which a railway museum and rest-stops are being built. 70% of the green corridor at Bukit Timah is opened! Most people usually go to the Northern parts where you can get to see the cast iron bridges and the old railway station. (So this post focuses more on that.)
I usually want to find out more before going but didn't manage to find anything much. So I went, conquered and answered my own burning questions.
If you are looking for answers about the new rail corridor trail in Singapore, here are the answers.
1. Where can I access the rail corridor?
There are many access points along the rail corridor. If you are heading there, my suggestion would be to plan what you want to see, where you want to go and how far you intend to walk.
If your objective is to cover the whole 4KM, then start from either 1 or 8 (or near there.). Whereas, if your objective is to take instagram pictures of certain spots, eg. the old Bukit Timah Railway Station, then you can start at 8.
Near The Rail Mall and Upper Bukit Timah truss bridge.
Near Dairy Farm Nature Park and Singapore Quarry Bridge.
Stairs from the end of Hindhede Walk, near Springdale Condominium.
Stone path near the Hindhede Bridge and you can walk to Bukit Timah Nature Reserve from here.
Brick stairs next to Hindhede Bridge was closed when I was there.
Staircase from Jalan Anak Bukit, under the PIE viaduct.
There are a few access points around Mayfair Park estate, with a ramp near Jalan Bangket.
Either side of the Iron cast Bukit Timah Bridge. (Bukit Timah Road / Dunearn Road)
2. Where is the best place to park and start walking?
Like my previous point, it all depends on your objective.
Recommended Weekday Parking at Rail Corridor
You can probably find free parking at the Mayfair Park estate but please please do not park such that you cause any inconvenience to the residents. If you are going on during off-peak hours, I think it is pretty okay.
You can also try to park near the Bukit Timah Nature Reserve. (But if you were to go on the weekend, you are 'fighting' with those going to there!)
Recommended Weekend Parking at Rail Corridor
You can park at the King Albert Park Mall. Another option is also to start at the Rail mall. After a long walk, you can sit down at one of the cafes or restaurants at these malls for some snacks and food.
Public Transport to Rail Corridor
If you are taking public transport, then start at at King Albert Park MRT station, walk to the Old Bukit Timah Railway station. U-turn back and walk all the way to the rail mall.
3. When to go to the railway corridor?
Given that covid is not over, I highly suggest you not to go and make it more crowded.
Avoid:
Do a google check on the crowd size before heading down.
4. What is the recommended route to take at Rail Corridor?
The Mayfair estate is not far about from iron cast Bridge at Bukit Timah (about 400m) and another 800m to the Old Bukit Timah Railway Station.
King Albert Park Mall and Rail Mall starts off at the opposite parts of this newly built corridor.
4. Can I cycle at the Rail Corridor?
Yes, you can. When I went on a weekday mid-afternoon, there are quite a few cyclists. However, I heard that weekends can still be rather crowded so it may be tricky to cycle.
There were parts in which you need to dismount and push.
5. Can I walk / cycle to Tanjong Pagar or Woodlands?
You can actually walk/cycle all the way to Tanjong Pagar area and exit via Spooner Road.
The more interesting sights along the way Green Corridor include:
Clementi Forest –

From here, there is a small opening in which you can link to the PCN and I cycled to the Hakka Columbarium (Fung Yun Thai) from there.

some Black and white colonial houses,
old military houses near Tanglin Halt (I think it is a residential apartment now) and
an old railway house near the end of the corridor.
It took me about 1.5-2 hours to cycle all the way.
6. What is there to see?
My personal highlights of the Rail Corridor are probably:

Singapore Quarry – we stumbled upon it while we were exploring the Rail Corridor.
the old restored cast iron bridges,
flora and fauna,
The old Bukit Timah Railway station – it will be converted into a railway gallery.
Try to spot this train-themed unique houses along the way!
How to get to Singapore Quarry from the Rail Corridor
There are 2 ways:
From the Rail Mall, walk to Jalan Asas and there will be a pathway linking to a granite pathway leading to Singapore Quarry
As you walk through the Rail Corridor, you will see a stone bridge above you. Near it is a stairways leading up to the bridge. After crossing this old structure, you will have to "bash" through the jungle for less than 1min (clearly marked) to the granite pathway.
The more conventional way is to park at near the MOE Dairy Farm outdoor adventure learning center and walk all the way along the path.
Let me know if you have any more questions in the comments and I will be happy to answer you.
Still not sure how to explore Rail Corridor on your own?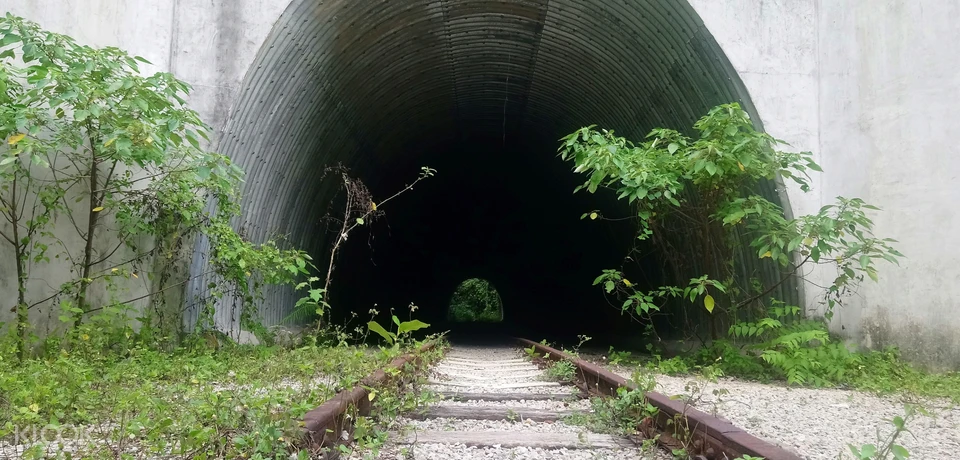 Check out Klook which offers these tours:
Rediscover the role of The Rail Corridor. It's more than a part of Malaysia's KTM
Uncover the rich cultural heritage behinds the landmarks along the trail
Get a trip down the memory lane in this 1 and a half hour walking tour
Stroll along the trail that goes from Old Bukit Timah Railway Station to Masjid Hang Jebat
Discover the rich, vibrant beauty of nature in Clementi Forest with this SG Forest and Rail Track Hike
Escape the hustle and bustle of the city and follow the old rail track hike in the forest to be close to Mother Nature
Capture some memorable photos when passed by the Old Railway Bridges